Tottenham manager Ange Postecoglou admits he never thought his Premier League chance would come and that he was the "last man standing" in the selection process this summer.
Since swapping Celtic for Spurs, the 58-year-old has taken the club to second place in the fledgling Premier League table with an attractive brand of football.
"I never thought I would get here, to be honest, not because of my ability, just because no-one was looking this way," he told the BBC.
"I have ended up really late in my career, managing one of the most famous clubs in the world in Celtic and one of the biggest football clubs in the world in Tottenham. It has come late, it just took someone to look beyond the norm."
The Australian sat down to chat to ex-Tottenham striker Gary Lineker for Football Focus about many things, including…
Going from staying in a refugee camp to playing for Australia

His leadership style

His time in Japan and finally getting the Celtic job

Spurs being ready for attacking football after Jose Mourinho and Antonio Conte

Fighting for trophies and life after Harry Kane
On his refugee upbringing, his dad and Match of the Day…
Postecoglou was born in Greece but moved to Australia with his family as a young child when they lost their business after a military coup
"We were immigrants. I don't look like your typical refugee, but I was five years old when we came, we went by boat, had no certainty about anything.
"At the time Australia was looking towards immigrants to help with the workforce, my dad was an unskilled labourer, so we took that leap, stayed in a refugee camp for a while then got a house.
"I had a father who, like every little boy, I just wanted to get close to, but he was working all the time.
"The only thing he kept inside of him from the old country was his love of football. AEK Athens was his team, I was born a couple of kilometres from the stadium.
"He loved football and, growing up, that was my connection. Our local team was Greek, an immigrant team, and we went there on Sundays and could speak Greek, he felt comfortable for two hours.
"I loved that, what it did to him as a person and I wanted to get close to that. We would sit up late and watch the games, mostly from England. Match of the Day was our two-hour fix. It was week-old footage but that's where it started."
As a footballer, Postecoglou played for South Melbourne Hellas and won four caps for Australia
"I was a battler, I was a full-back who hated defending. I think my dad knew, and that probably caused friction between us, because he dreamed of me reaching the top of the game and I knew that wasn't going to happen.
"Maybe that held me back a bit because I put that limitation on myself. I had a couple of opportunities to play in Greece, and I got a knee injury and that was it really. But everything I did was really a precursor to becoming a coach."
On inspiration from Puskas and Liverpool…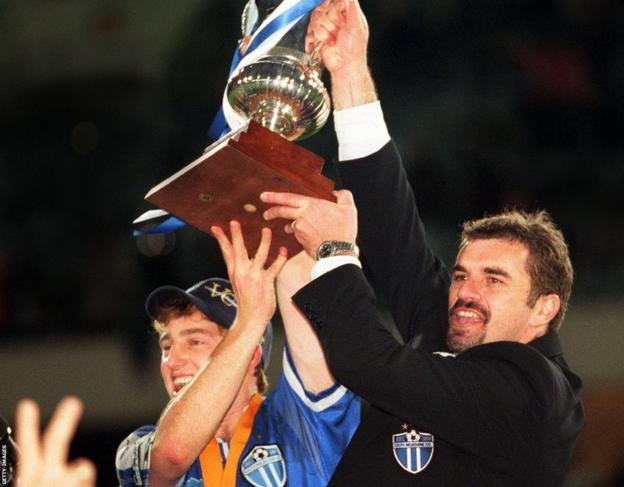 "Even as a player I was really curious, asking every manager about the game, why they made the decisions. Even today I want to know why, why, why? I was made captain of a club aged 22, so there was obviously a leadership skill there I wasn't really aware of.
"I always wanted to be a manager. I loved the game. I loved all of it, not just playing. I would get three-month-old Shoot magazines, Roy of the Rovers. I would read everything. I was a massive Liverpool fan, I loved Bill Shankly, I loved the boot room stories.
"I am comfortable walking into a room and talking to footballers. I am not comfortable going into a social setting and having small talk, but put me in a room with footballers and I am more than comfortable in that space.
"Some of it [his football philosophy] was dad. The teams you loved to watch, 1974 it was all about Holland, it was always the teams who excited. Even Liverpool in the 70s with the whole possession stuff. He always tracked me down that road.
"My dad didn't like watching Italian football at times, that influenced me and I got attracted into these teams, those players. In the bizarre world I have grown up in, I ended up with one of the greatest footballers of all time, in Ferenc Puskas, being my manager [at South Melbourne]. He just didn't like defending at all.
"His attitude was they score four, we score five. We are talking late 1980s where it was 4-4-2 everywhere. He wanted to play wingers and he didn't ever want our wingers to come [back] past the halfway line.
"Now, I was a full-back who hated defending. We ended up winning the league. Our strikers got bags of goals, it stirred something inside me and I thought why not? Why not just go for it? Why not play the football everyone wants to play and just score goals, don't worry about conceding."
On only being 'discovered' since moving to Europe…
Postecoglou managed several Australian and Greek sides before taking charge of the Australia national team and Japanese side Yokohama F Marinos
"People have only discovered me in the last couple of years, where I have had 25 years of being fairly successful.
"I didn't understand it, I used to come over here five, six years ago – I was national team boss and people would introduce me to so and so. And it was like going to those Hollywood auditions and being rejected, they just didn't know who I was.
"It was so depressing, I'd been working for 25 years. I never thought I would get here to be honest, not because of my ability, just because no one was looking this way.
"Japan is an unbelievable country. I loved my time there. With the language taken away as a tool, which I like to use, it really challenged me as a manager and it worked.
"I had success and that really added to my belief. I thought wherever I end up next, I conquered that and I will have my language back and will feel more comfortable.
"That gave me maybe a bit more credibility. I was also part of the City Football Group, which exposed me to this part of the world. People kept telling me, 'you are better off being sacked three times in Europe than being successful this side of the world'."
Postecoglou left Japan for Celtic in 2021 and after two years in Scotland became Spurs boss this summer
"I think in both jobs, no one would say it, but I was last man standing. They ended up being rejected by a fair few and I ended up being the last one left. That's OK, I'll take that.
"I have to thank Eddie Howe [for the Celtic job]. I think that was pretty much done and then for whatever reason, Eddie didn't feel comfortable in taking the role. That had gone so far down the path in pre-season that they had to make a quick decision.
"I think I was on their list, I had a quick discussion with a couple of the key decision makers and they saw something in me.
"I was looking forward to it because it was the bit that had been missing. I'd had success, I knew I could do the job, but I hadn't had it in a place that I knew it would be impactful, meaningful.
"I knew if I had success at Celtic it would mean something, if only because I knew what it meant to the supporters.
"If nothing else, I knew I would have an impact in Glasgow."
On the 'stumbles' Spurs will have playing attacking football…
Postecoglou's attacking approach is a contrast to some of the football seen under Jose Mourinho, Nuno Espirito Santo and Antonio Conte
"I felt the club was ready for that, they were seeking a change. There was no point appointing me otherwise. In the discussions we had, I told them this is what I was going to do and I wasn't going to compromise that.
"It is going to be scary, not always smooth. I think there was a willingness from the club, I think that is the space they are most comfortable with and that suits me. It is challenging but I love that.
"It is easy for me to talk about these things, that we are going to play out from the back, be expansive. It leaves you vulnerable. All I could tell the players was 'if it doesn't work, it's on me'. Don't play with any fear, go and play.
"I have really enjoyed how they have embraced that. It hasn't been tested yet, and it will get tested, we will have stumbles along the way for sure, but I am really pleased how they have taken on the way we are going to play."
On 'moving on' after Kane and not showing 'desperation' for a trophy…
Weeks after Postecoglou's arrival, Spurs' all-time top scorer Harry Kane left for Bayern Munich.
"Harry was brilliant throughout. Half of me was gutted because you want to work with the best players and he is a hell of a striker and I thought he could help me. I got a sense he was at the stage of his career where he wanted another challenge and you can understand that. I was planning [for playing] without him.
"He has left an indelible mark at this football club, will go down as one of the greats and we need to move on. Football clubs move on."
Tottenham, meanwhile, are bidding for a first trophy since the 2008 League Cup
"It can't just be a desperation for just a trophy. This club is more than that. I don't see this as a club where just a trophy is enough. I know why there is a such a desperation because there has been such a long drought but it is not what I want to build.
"I want to build a club where every year we are fighting for trophies.
"I have always made decisions against the backdrop I will be here forever, knowing full well I won't be.
"There is always going to be this clock ticking against your tenure and if you let that drive you, you will go mad. I have never seen it work. I have always looked at it thinking 'I will be here for 10 years' and I have never been anywhere more than three years."