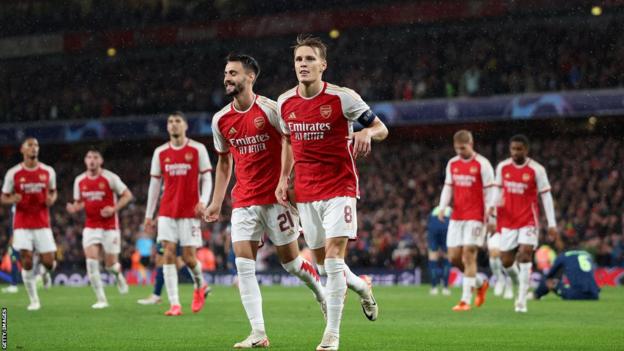 Arsenal were desperate to make up for six years of lost time in the Champions League and made PSV Eindhoven pay heavily for the pain of those days in the wilderness on a rain-soaked night at Emirates Stadium.
The script for Arsenal's 4-0 win could have been penned by manager Mikel Arteta, so perfect was every aspect of this night, played out in biblical conditions in north London.
Yes, the weather was far from ideal but Arsenal's performance was close to it as they outclassed a PSV side which had been unbeaten in 26 games, only to be totally over-powered here.
It is far too early to debate just how deep Arsenal can go into the Champions League after one game, but no-one can doubt this was a hugely impressive return.
The only question left for Arteta to answer is one every manager relishes.
Which of his two high-class goalkeepers will start in the crucial north London derby against Tottenham here on Sunday? David Raya, who got the nod against PSV, or Aaron Ramsdale?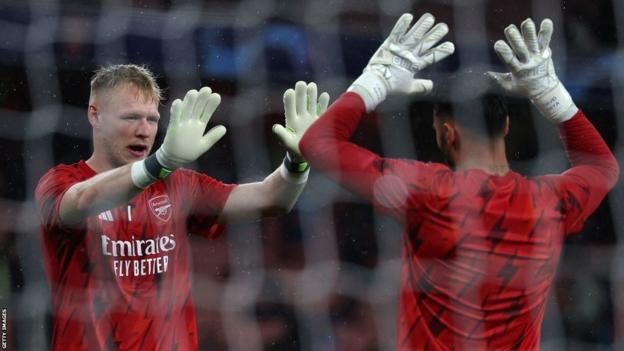 Arteta's obvious pleasure at the final whistle was brought on by a performance which was full of the old fluidity of last season, exemplified by a scintillating first half that served a a statement of intent about Arsenal's ambitions in Europe's elite competition this season.
PSV were swept aside in those early phases, with fit-again Gabriel Jesus showing the quality he offers as well the attacking focal point he provides when he is available to Arteta.
Bukayo Saka had already put Arsenal ahead when Jesus played him in after a lightning spin away from PSV's defence. He passed to Leandro Trossard, who showed the class he demonstrated scoring the winner at Everton on Sunday by steering in a smooth finish.
Jesus deservedly drove home a third before half-time, and Martin Odegaard's fourth was a fine flourish on a game that was already won.
So complete was Arsenal's control that Arteta was able to start preparations for the north London derby in advance by giving Saka, Trossard, Jesus, Declan Rice and Oleksandr Zinchenko an early night.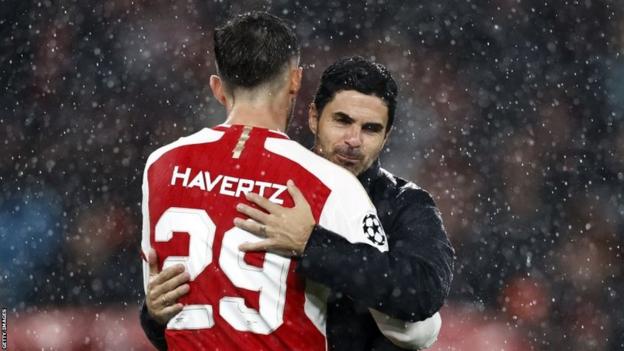 It simply could not have gone better for Arsenal, Arteta or the Gunners' fans, who made their way home in high spirits despite being drenched by the torrential downpour.
And so to the "good headache" – as Arteta described it – of selection decisions awaiting him ahead of that meeting with in-form Spurs, who arrive at Emirates Stadium rejuvenated by the Ange Postecoglou effect.
The big choice, of course, is between Raya and Ramsdale. It will also be the clearest indicator yet of who Arteta now regards as his number one goalkeeper.
The logical thinking is that if Arteta decided Raya was the keeper for Everton on Sunday and here against PSV, then surely he must face Spurs, no matter how disappointed or harshly treated England's Ramsdale will feel.
Raya was hardly put tested here but his handling was perfect in testing conditions while his distribution with the ball at his feet was outstanding. The Spaniard showed a full range of passing, both long and short, delivered with impressive accuracy.
The goalkeeping position will be a hot topic of debate until it becomes evident who Arteta favours and whoever is in goal on Sunday must be considered his preferred candidate. For all the talk of rotation, it must be detrimental to have uncertainty about one of the most pivotal positions in the team.
Raya has kept two clean sheets, shown impressive handling and confirmed the good impression he created at Brentford. What reason would there be for Arteta to revert back to Ramsdale?
This is no slight on Ramsdale, but it is clear Arteta has seen something that made him move for Raya, even though the former played an outstanding part in Arsenal's Premier League challenge last season.
Arteta is in the fortunate position of having two fine keepers to choose between but alternation is ultimately unrealistic. One of Raya or Ramsdale must be anointed as number one and quickly.
For now, however, Arteta and Arsenal can bask in a job supremely well done in front of supporters so keen to celebrate the club's return to the Champions League that the sound of the tournament's anthem sent a huge roar sweeping around Emirates Stadium before kick-off.
Absence from the Champions League had made Arsenal's heart grow fonder and this victory was well worth that six-year wait.