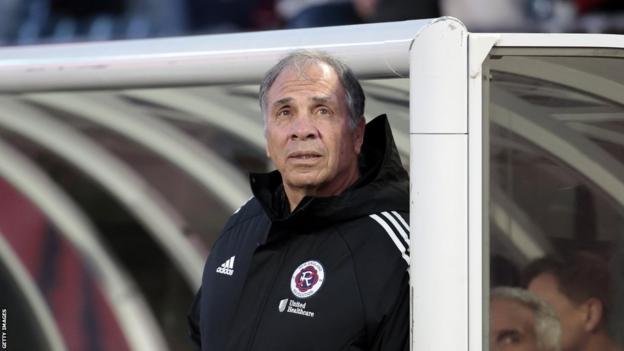 Head coach Bruce Arena has resigned as boss of Major League Soccer club New England Revolution.
The 71-year-old was alleged to have made "insensitive and inappropriate" remarks and was placed on administrative leave last month while the MLS investigated the matter.
No specific details of the charges have been made public.
Arena, the former United States manager, acknowledged he had "made some mistakes".
He added: "Moving forward, I plan to spend some time reflecting on this situation and taking corrective steps to address what has transpired.
"And while this has not been an easy decision, I am confident that it is in the best interest of both the New England Revolution organisation and my family that we part ways at this time."
The MLS said that as the investigation "confirmed certain of these allegations", Arena would need to submit a petition to the League Commissioner if he was to take up another post in the league in the future.
Arena, the country's most successful coach, had two spells in charge of the US men's national team, from 1998-2006 and from 2016-17.
He is a four-time MLS coach of the year and five-time MLS Cup winner across his time with LA Galaxy, DC United, New York Red Bulls and New England.
New England said they had accepted Arena's resignation and added: "We wish Bruce well and thank him for his contributions to the team."