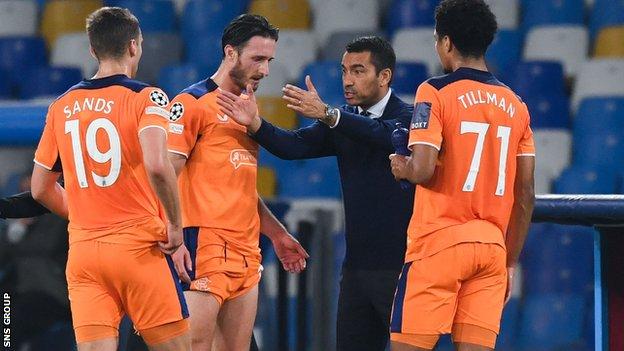 Rangers manager Giovanni Van Bronckhorst says he has had recent talks with the board but not about his position at Ibrox.
Van Bronckhorst's side fell to a fifth successive Champions League loss away to Napoli on Wednesday and were booed off the pitch following last weekend's home draw with Livingston.
"Of course I have discussions with the board and with [sporting director] Ross [Wilson] but my future and my position at the moment has never been discussed," he said.
"It's something I have always had throughout my career, the pressure to perform, the pressure in every game to reach the standard. I had it as a player and I have it as a coach.
"Of course you feel the pressure but the most pressure I put on myself. That is something I'm used to and it gives me strength and energy to keep going forward."
The former Netherlands captain replaced Steven Gerrard in November 2021 and steered Rangers to the Europa League final before ending last season as Scottish Cup winners.
The Ibrox club finished four points behind Scottish Premiership champions Celtic and find themselves trailing by the same gap after slipping up against Livingston.
While again stressing the quality of European opponents, Van Bronckhorst conceded there is a similar financial gulf between the Old Firm and their domestic rivals.
"We have to react now and also after the dropped points last week but the players are ready for it," he said looking ahead to Saturday's home meeting with Aberdeen.
"In the Champions League we competed well against the big teams in spells but overall the (opposition) players are from a higher quality. If you see the squad, we have we had a lot of players who are not used to playing two times in a week.
"That's is a factor we have to take into account but, yes of course, we need to win tomorrow."
Admitting "it is difficult" to pick players up after bruising European defeats, Van Bronckhorst said: "We know the difference in level but a loss is still a loss so we have had that feeling five times now in that competition.
"The most important thing is we are mentally fresh – and I think we are. We have to start positive, on the front foot, and that will also get the reaction of the fans."
Roofe suffers fresh setback
Rangers will be without striker Kemar Roofe, who has suffered another calf injury setback following his brief return to action.
The 29-year-old made his first outings of the season as a substitute in recent games with Dundee and Livingston, but missed Wednesday's defeat in Naples.
"We won't have him for a couple of weeks," said Van Bronckhorst. "It is the same area but a different injury."
"First, it is very frustrating for Kemar. He has had a history of injuries since he came to this club.
"He is trying every time to come back and whenever he is back, it is always a setback within a couple of weeks."