Following complaints from county officials, the Ethics and Anti-Corruption Commission (EACC) sought to recover over 130 acres of land meant for government development projects.
These parcels of land, valued at Ksh2 billion, are located in Nyeri, Naivasha, and Nanyuki.
EACC flagged the three towns where private developers were accused of encroaching on government land.
The government was expected to construct a police station, bus park, prisons, chief's camp, Nanyuki High School, and the County Commissioner's residence on the parcels. 
A signpost showing land for sale.
File
"The land parcels are often located near the ring road where the PC's residence is, where the DC used to live and all other government houses," Central Region Manager EACC, Abraham Kemboi stated.
Reportedly 30 parcels of the disputed land belong to the Judiciary, roads, and the Ministry of Water.
Meanwhile, in Nyeri, EACC sought to recover 60 parcels of land valued at Ksh1 billion. It was alleged that the county criminal investigating officer's office was grabbed.
"At the moment, we are talking about building the governor's and the deputy governor's office and the speaker's residence, but you find most of the land has been grabbed," Nyeri deputy governor, David Kinairi, lamented.
In addition, the private developer's title deed and license will be revoked.
Earlier, EACC sought the court's permission to recover Ksh100 million grabbed land belonging to the Kenya National Highways Authority (KeNHA).
It was allegedly grabbed by a former Commissioner of Lands who irregularly transferred the three-acre piece of land to his brother.
Also, EACC, in October 2022, launched a manhunt to apprehend a man who was accused of grabbing land belonging to the Kenya Defence Forces (KDF).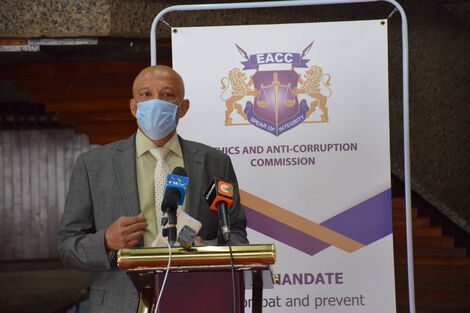 EACC CEO Twalib Mbarak after presenting a cheque to the Kenya Covid-19 Fund on April 28, 2020.
Twitter
criminal