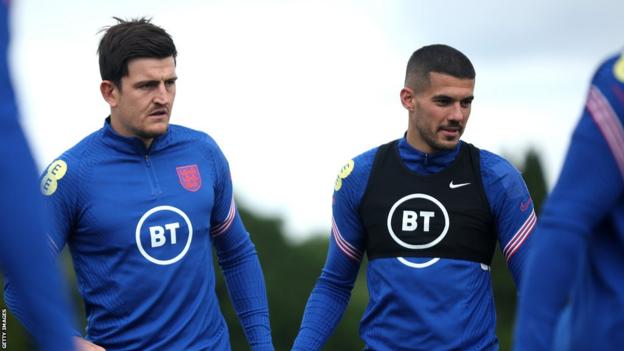 England defender Conor Coady has backed the selection of "mainstay" Harry Maguire by boss Gareth Southgate.
Maguire was included in the squad for matches against Ukraine and Scotland, despite struggling for first-team football at Manchester United.
He played the full game as England drew 1-1 with Ukraine on Saturday.
"We all see the debate when a squad goes out and [people say] 'he should be in and he shouldn't be in'," Coady told BBC Radio 5 Live's Monday Night Club.
"I think the big thing that we've got to remember is that it's still a football team and you still need people within that squad who are mainstays."
When Southgate announced his most recent squad Maguire had not yet featured for United this season, but the centre-half came on as a substitute against Arsenal just before the international break.
The 30-year-old could now win a 59th England cap against Scotland on Tuesday.
Coady added: "You can say about H [Maguire] not playing as much for United or whatever it is but when you go [on England duty] you feel how big H is there, the presence he's got, the kind of understanding he's got of playing for England, how he understands the manager and [assistant] Steve [Holland], who does quite a lot on the grass.
"I think it's important to remember from a fan point of view and other people's point of view that to create a team you do need players in the team who are experienced and have played a lot. Harry brings that and more."
Coady, who moved to Leicester City from Everton during the summer, has 10 England caps and, along with Maguire, was part of the 2022 World Cup squad.
"I'll be honest, every time I have played with him for England and been in a squad with him, he's delivered," said Coady.
"Every time he goes, especially for those young lads, he's going to be absolutely massive for the boys coming through as well."