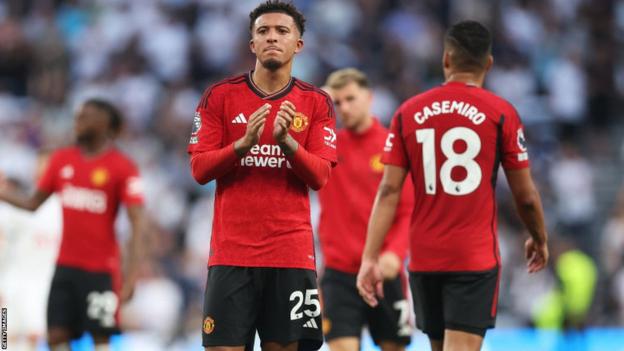 Manchester United boss Erik ten Hag says he does not know if Jadon Sancho will play for the club again.
The 23-year-old winger is training away from the first team after claiming he had been made a "scapegoat" following his omission from the squad for the defeat at Arsenal on 3 September.
Ten Hag said at the time he had been excluded because his training performances were below standard.
Asked if he could play for the club again, Ten Hag said: "I don't know."
Sancho's comment was made in a social media post that he subsequently deleted.
Ten Hag added: "Tomorrow we have a big game [at home to Brighton], we are going into a new block of games, many games in a condensed programme. I focus on that.
"He is not available, so in this moment, he is not important, because he can't contribute."
Manchester United have had mixed form in the Premier League so far this season, winning home games against Wolves and Nottingham Forest but losing away to Tottenham and Arsenal.
Last season, Ten Hag showed he was not afraid to make big decisions at the benefit of the team, dropping Cristiano Ronaldo after he refused to come on as a substitute in a game against Tottenham in October 2022.
Like Sancho, Ronaldo was then made to train alone and, although he did make a return to the first-team fold, the Portugal forward left in November that year after giving a controversial interview criticising Manchester United.
Ten Hag stressed on Friday that the team is more important than any one individual, adding: "That is not about me, and to be strict. No. This is in favour of the team.
"I don't think about that [Sancho's social media post] and I don't talk about that, because I have to win a game. It is all about that.
"The players who are there and available deserve me. I have to guide them, I have to prepare them, it is about that. I only focus on the players who are available."