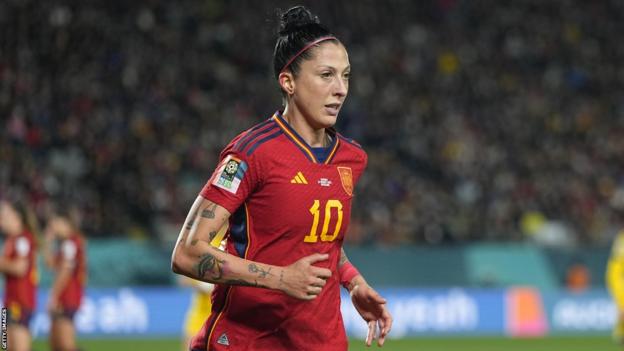 Jenni Hermoso says calling up players who are boycotting Spain's women's team shows "nothing has changed" at the country's football federation.
Players have been boycotting the team since the federation's former president Luis Rubiales kissed Hermoso after the Women's World Cup final last month.
It led to Rubiales' resignation, while manager Jorge Vilda was sacked.
New head coach Montse Tome has called up 15 members of World Cup-winning team, but Hermoso was left out.
Tome said the Pachuca forward was omitted from the upcoming Nations League fixtures "to protect her", but Hermoso pointed out the inconsistencies after the federation promised "a safe environment" in a statement on Monday.
"Protect me from what? And from whom?" Hermoso said.
After the call-ups were announced on Monday, the players published a statement stressing the boycott remains in place and expressing their regret that they were again "put in a position in which we never wanted to be in" and intended to explore the potential legal implications of being called up against their wishes.
Hermoso, 33, accused the federation of using "manipulation" to "intimidate" players.
In a statement, Hermoso said: "We have been searching for weeks – months, even – for protection from the RFEF [Spanish football federation] that never came. The people who ask us to trust them are the same ones who today disclose the list of players who have asked not to be called up.
"The players are certain that this is yet another strategy of division and manipulation to intimidate and threaten us with legal repercussions and economic sanctions. It is yet more irrefutable proof that shows that even today, nothing has changed."
A group of 81 players boycotted the team after Rubiales kissed Hermoso following last month's final, and on Friday, 39 players said their strike would continue until further changes were made – despite Rubiales resigning.
Before Tome's squad announcement on Monday, the RFEF had urged striking players to return to the national team. The organisation previously said the players have "an obligation" to play if selected.
Players could be fined if they refused to turn out and the federation could have its licenses suspended under Spain's Sports Act.
Victor Francos, the head of Spain's government national sports agency, told SER radio station if the players did not show up "the government must apply the law".
Hermoso also offered her support to the players "who have been caught by surprise and forced to react to another unfortunate situation caused by the people who continue to make decisions within the RFEF".
"This is why we are fighting and why we are doing it in this way," she added.
Two-time Ballon d'Or winner Alexia Putellas was among the 15 players called up who were part of the World Cup-winning squad in Australia and New Zealand.
This was the first squad announcement by Tome, who replaced Vilda – considered a close ally of Rubiales – after he was sacked earlier this month.
Tome, who was Vilda's assistant manager, has become the first woman to hold the position of Spain women's boss.
Putellas' Barcelona team-mates Mapi Leon and Patri Guijarro – who were not included in Spain's World Cup squad after signing an open letter against then-coach Vilda – were also named in the side.
"It's the start of a new phase, the clock is ticking," said Tome.
"There is nothing behind us and we really want to connect with these players."
Swiss forward Ana-Maria Crnogorcevic, who joined Atletico Madrid from Barcelona this summer, said the squad announcement was "disrespectful".
"This is insane… how can you threaten your own players like this… call them to the national team, when they said they want clear changes before they come back!" said Crnogorcevic on X, formerly known as Twitter.
Former Spain men's goalkeeper Iker Casillas said: "Everything keeps getting worse in the RFEF."
On Friday, the 39 players boycotting the national team released a statement saying they would not return until further conditions were met, including reshaping certain departments within the RFEF, adding that they did not yet "feel in a safe place".
The RFEF responded by expressing its commitment to change being made "to restore the functioning of the entity".
The Spanish government also assured players that changes will be made and there will be a greater representation of women in the federation.
Rubiales has been banned from going within 200m of Hermoso, who has said the kiss was not consensual, after the 33-year-old filed a legal complaint.
Appearing in court for the first time last Friday, Rubiales denied sexually assaulting Hermoso.