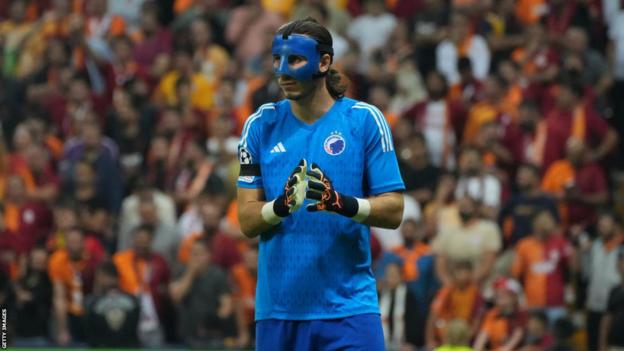 FC Copenhagen goalkeeper Kamil Grabara received death threats after posting a derogatory comment about Galatasaray on social media, his wife says.
Ex-Liverpool player Grabara, 24, used an expletive to refer to Galatasaray, before editing the post to use a similar expletive to describe the game.
It came after Copenhagen threw away a two-goal lead in the final four minutes of normal time in Turkey on Wednesday.
On Thursday his wife shared screenshots of threatening messages sent to her.
"This is not normal. 300 messages and I can't count how many comments. There are no words," she said on Instagram, alongside the death threats directed at Grabara and his family.
"What world do we live in?"
Grabara, who was at Liverpool from 2017-2021 but did not play for the first team, had told reporters before the game he had "heard Fenerbahce fans are better" than their Galatasaray counterparts.
The Pole, who was wearing a mask at RAMS Park after suffering a facial fracture last year, was beaten by Sacha Boey and Tete in the 86th and 88th minute respectively.
BBC Sport has approached FC Copenhagen and Galatasaray for comment.