Kenya has received a fleet of electric buses at the port of Mombasa. The 15 buses arrived on Tuesday, November 29 and were delivered by MV Morning Christina.
It marked the largest fleet of electric-powered buses to arrive in the country and in the region, according to the Kenya Ports Authority (KPA).
"This is the largest consignment of electric buses to the region as Kenya is looking to transition to clean energy," KPA reported.
The buses arrived after a successful trial was recorded in the country. The two pilot buses are already in operation in Nairobi.
Fifteen electric buses aboard MV Morning Christina at Mombasa Port on Tuesday, November 29, 2022
Twitter
Kenya Ports Authority
The successful trial was conducted by BasiGo, a Kenyan electric bus company. The 15 buses were safely delivered at the port by the largest manufacturer in the world BYD.
"The buses were shipped by BYD Automotive; the largest manufacturer of electric vehicles in the world," KPA stated. 
The authority further stated that the ship on which the buses were aboard is also one of the several vessels that are expected into the country.
"Morning Christina is among 39 vessels expected at the port of Mombasa in the next two weeks," KPA announced marking its arrival.
The arrival comes after Super Metro announced that they would replace the diesel buses with electric ones. The chairperson, Nelson Mwangi Nduki, noted that the matatu company had ordered 10 electric buses.
Once they are in operation, they would ply different routes within Nairobi city, starting January 2023.
The new electric buses will be fitted with features that allow commuters to track their real-time movement. 
"We have actually ordered 10 electric buses. Some are set to arrive in December and start operating in January," Mwangi stated.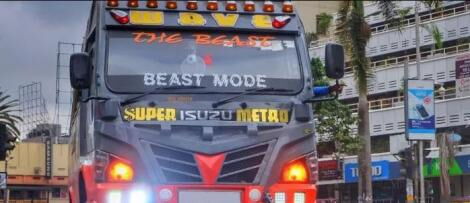 A Super Metro Matatu dubbed The Beast pictured along Nairobi CBD on October 4, 2020.
Facebook