Alan McCormick, a writer born in Kenya, won Ksh485,130 for his entry in the 2022 RTÉ's Short Story competition held in Wicklow, Ireland.
His short story Fire Starter emerged in position two behind Brendan Killeen's Big Why, Little Why. 
McCormick, who was born in Kenya before moving to England and Wicklow, Ireland, later on, attributed his story to an experience when he fell ill.
In the late 1980s and 1990s, the writer who contracted a long-term illness visited a Quaker Retreat despite lacking strong religious beliefs. 
Writer Alan McCormick (third from left) and others
Independent
At the retreat, he met two men who engaged in light conversation, which relieved him as he received treatment.
"Another time, after being in the hospital, I ended up in a recuperation nursing home during the damp squib of 1999's solar eclipse," he recounted.
"These experiences stayed locked away for nearly two decades, but when the phrase, "Theo thinks he's Christ' popped into my head, I had an opening line for a story and an imaginary character ready to disrupt a familiar time and place," he added.
The father of three has as well worked as a hospital porter, nurse, political researcher, and actor.
He also has a book of comic illustrated shorts with artist Jonny Voss.
McCormick recently completed his second story collection and is currently working on a memoir. 
Meanwhile, the RTÉ's Short Story competition writing competition was set up in 1986 and has since been an important launch pad for new and emerging writers in the country.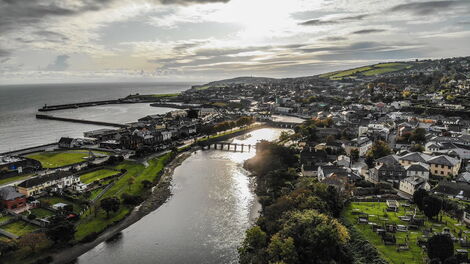 An aerial view of Wicklow Ireland