National Assembly Speaker Moses Wetangula on Tuesday, October 1, announced that the newly constructed Parliament Towers will be ready for use from Thursday next week. 
The 28-storey building is situated along Harambee Avenue in Nairobi's Central Business District (CBD) between the main chamber of parliament and the Continental House. 
It rises 125 meters into the sky and sits on a one-acre piece of land. Further, the building has four basement parking floors and a tunnel connecting to the main chambers. 
An image of the newly constructed Parliament office block.
Parliament
The plan to construct the high rise was conceived by the Parliamentary Service Commission (PSC) to help avert the high cost used in renting office spaces for members of parliament.
The commission was also under pressure to accommodate the additional members in the expanded bicameral parliament. Its construction commenced in 2015 under the leadership of Speaker emeritus Justin Muturi.
The tender to construct the Ksh8 billion project was awarded to a Chinese firm identified as  China Jiangxi Construction Company.
However, the project was hit by a number of challenges, including insufficient funds, which occasionally slowed down the progress. 
The Speaker in a message to the members noted that the building will host 280 offices for members of parliament.
In June, the PSC invited members of the public to channel suggestions for the name of the new building. 
It is currently part of the revamped skyline of Nairobi with one of its facades facing the Nairobi Expressway.
The speaker stated that some of the members would be compelled to remain at the main chambers since the offices were not enough for all members.  
"In order to ensure that members occupy the offices immediately they are handed over, I have directed the clerk to prepare the schedule of allocation of the 280 offices being an equitable share of the apportioned to the National Assembly, regrettably around 63 members of this house will not be accommodated in the new office block," he stated.   
The Speaker, his deputy and other members holding house leadership positions will be prioritized in the designation of office spaces.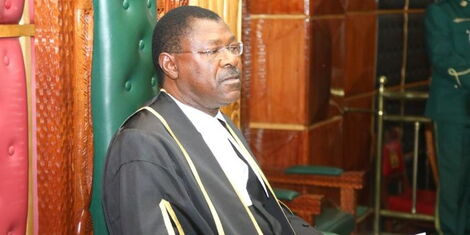 National Assembly Speaker Moses Wetangula during a session on Thursday, October 6, 2022.
The National Assembly