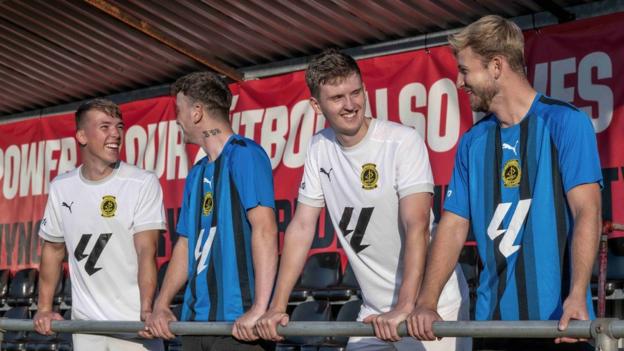 La Liga is already home to some of the biggest names in world football – but now it has signed up with arguably the longest name in world football.
Spain's top flight has agreed a one-year shirt sponsorship deal with a Welsh fifth-tier side whose full name is Clwb Pel Droed Llanfair­pwllgwyngyll­gogery­chwyrn­drobwll­llan­tysilio­gogo­goch Football Club.
That's the name displayed on the club badge, although they more commonly go by the shortened version, Llanfairpwll.
La Liga – home to such stars as Frenkie de Jong, Jude Bellingham, Luka Modric and Robert Lewandowski – will have its logo on the front of the north Welsh club's home and away shirts.
The Anglesey-based village club play in Division One of the North Wales Coast West League.
The team will wear their new La Liga shirts on Saturday when they host island rivals Holyhead Town.
"We've got a great group here who are really committed to bringing success to the club," manager Gwyndaf Hughes said.
"This new partnership with La Liga brings further professionalism to our side, and I know the lads can't wait to wear the new kit with pride from this Saturday and throughout the season."
Llanfairpwll chairwoman Samantha Jones-Smith described the link-up as an "outstanding partnership".
"Not only is it the most exciting collaboration the club has ever had, but it also allows us to improve both on and off the field," she said.
"Securing a front of shirt partner of this level is of vital importance, and with La Liga's long-standing history of footballing excellence, we have a fantastic partner to join us on our journey."
Llanfairpwll are not the first Welsh club to receive support from an unexpected source.
Line of Duty star Vicky McClure and her filmmaker husband Jonny Owen agreed a deal for their production company BYO Films to feature on the kit of Southern League side Merthyr Town in 2021.
That was five years after Hollywood star Naomi Watts agreed to become honorary president of Llanfairpwll's Anglesey neighbours Glantraeth.
Watts, star of Mulholland Drive and King Kong, spent time as a child on her grandparents' farm on Anglesey.