Mason Greenwood says he is is "very happy" to be at Getafe as the on-loan Manchester United forward addressed fans at his unveiling.
The one-cap England international, 21, joined the Spanish top-flight side on Friday on a season-long loan.
Last month, United said Greenwood would leave by mutual agreement after a six-month internal club investigation.
It came after criminal charges against the player, including attempted rape and assault, were dropped in February.
"I am very happy to be here," he said.
"I have been training for four or five months, I am getting up to speed and have been training with my team-mates and feel quite good.
"We take it one game at a time and the next home game is coming in a few weeks and we will try to win and do our best."
Greenwood has not played or trained with United since his arrest in January 2022 following allegations surrounding material which was published online.
In a video posted by Getafe's English account on X, formerly known as Twitter, Greenwood walks out at their Coliseum Alfonso Perez stadium in Madrid in the blue home kit as fans cheer before he signs a football and kicks it into the stands.
He was earlier welcomed by Getafe fans when he took part in an open training session with his new team.
In a video captioned "We love you Mason Greenwood", the player walks out to applause, while he is also shown in training action with team-mates.
Further posts show a supporter wearing a club shirt with Greenwood's name on the back, and another fan with a sign asking for his shirt.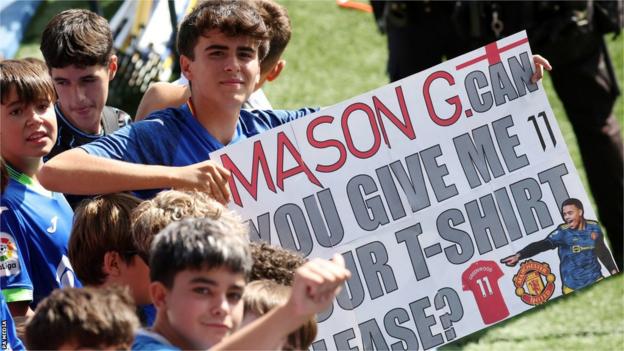 Greenwood was charged in October 2022 with attempted rape, controlling and coercive behaviour and assault occasioning actual bodily harm.
After the charges were dropped in February 2023, the Crown Prosecution Service (CPS) said key witnesses had withdrawn and new material had come to light, meaning there was "no longer a realistic prospect of conviction".
United then started their own internal investigation into the player, who was previously named one of the most valuable players in Europe's top five leagues.
In a statement last month, Greenwood said he had "made mistakes" and took his "share of responsibility", but added: "I did not do the things I was accused of."
United's statement in August said that "based on the evidence available to us, we have concluded that the material posted online did not provide a full picture and that Mason did not commit the offences in respect of which he was originally charged".
Speaking about the transfer on Saturday after a 2-1 defeat by Real Madrid, which Greenwood was not involved in, Getafe boss Jose Bordalas said he hoped the club would help the player to "recover his best level".
"It is too delicate a situation to trivialise this issue," Bordalas said. "Everybody knows what happened, the appropriate measures were taken.
"Obviously we can only talk about football, about other issues, I think, that the people and the relevant systems did what they had to do, and everybody knows how it ended – without a condemnatory sentence.
"He's a footballer of the highest level, who comes to Getafe with enormous hope. We are going to help him to recover his best level."
Greenwood, whose contract at United runs until 2025, has scored 35 goals in 129 games for the Premier League club since his debut in 2019 aged 17.
In announcing the result of their investigation, United said: "All those involved, including Mason, recognise the difficulties with him recommencing his career at Manchester United.
"It has therefore been mutually agreed that it would be most appropriate for him to do so away from Old Trafford."