Since landing in the country on Tuesday, November 15, American tech mogul and billionaire, Bill Gates, has created a buzz that is expected for someone of his grandeur. 
In Makueni, the billionaire held a closed-door meeting at Kathonzweni Dispensary where he engaged with health community workers in the region. 
The mogul's handlers, who operated his day-to-day activities, however, locked out local politicians as well as journalists from covering the meeting. 
A photo of Billionaire Bill Gates boarding a plane in the US at a past event.
Cal Airservice
In addition, efforts by local policemen to enhance Bill Gates' security were also thwarted by the mogul's handlers. 
The closed-door meeting was held after Gates engaged with Makueni Governor, Mutula Kilonzo Junior who affirmed that they painted a picture of the impending health crisis in the county. 
"We made a serious presentation on our healthcare workers and our budgets. He had a very keen interest in knowing how we cope with the problem of receiving only 50 percent of what we require from Kenya Medical Supplies Agency and how we plug in the gaps. He also wanted to understand the workings of community health volunteers," Kilonzo stated. 
The governor noted that his interaction with Gates presented an opportunity for the county to tap into some of the resources and funds from Bill and Melinda Gates Foundation.  
"This was an initial meeting. At the meeting with the Council of Governors and at the meeting with the national government, they want to see if they can replicate what is happening here in other counties so that they can help the country as a whole.
"This is just a learning experience so that they can ask the other counties what they are doing and whether we can have a one size fits all which they can fund because they fund big-time programmes," he stated.
"At a later date I am going to have a discussion with Thinkwell and Agra, the partners Bill and Melinda Gates Foundation deals with to see whether we can tap into some of their resources and markets," Gates added.
During the meeting at Kathonzweni Dispensary, the American techie was impressed with a local health volunteer, Julius Sanya for opting to stay at the community healthcare despite facing insurmountable challenges. 
"He wanted to know why our unit is comprised of a few community health volunteers against a huge population. We told him that some had fallen out because of lack of allowances.
"When he wanted to know why I had chosen to stay the challenges I said I felt it was more of a calling than a job. He lauded us for being committed to promoting skilled birth attendance in the region," Sanya after conversing with Gates during the meeting.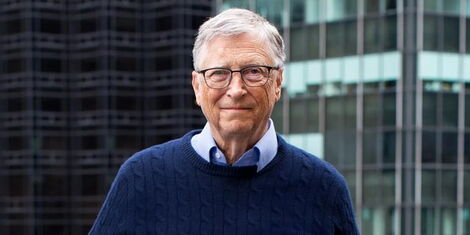 An image of philanthropist Bill Gates at a past event.
Wired
killed