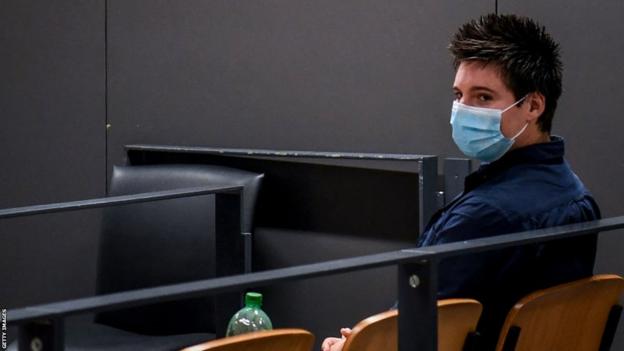 Rui Pinto, the man behind the Football Leaks website that exposed confidential football transfer and contract information, has avoided prison.
A Portuguese court gave Pinto a four-year suspended sentence after finding him guilty on counts of attempted extortion, illegal access to data and breach of correspondence.
The 34-year-old founded the website in 2015 and leaked millions of documents.
He argued he was a whistleblower and not a hacker.
A former history student and self-taught computer mastermind, Pinto was arrested in Hungary in January 2019, though he was later freed from house arrest and put under witness protection. His trial started in September 2020.
His website provided confidential information to media outlets in the European Investigative Collaborations (EIC) consortium, a network of journalists.
Pinto faced 90 criminal charges and was accused of computer fraud, attempted extortion and violating privacy of correspondence.
He said his actions were in the public interest in order to expose corruption in football, which his lawyer said the ruling on Monday recognises.
However, judge Margarida Alves told the court in Lisbon: "The freedom to inform does not justify violations of privacy."
She added: "The court has no doubt… It has clearly been established that he was hoping to get money.
"The court hopes that the regret [Rui Pinto has shown] is serious and that from now on he refrains from performing acts as described here."
Pinto was convicted on five counts of "illegitimate access" to IT systems and three counts of "correspondence violations", along with the attempted extortion against the investment fund Doyen Sports.
Prosecutors alleged that Pinto sought between 500,000 to one million euros (£429,400 to £858,800) from the head of Doyen Sports, Nelio Lucas, in order to stop publishing compromising documents.
The leaks began in 2016 and, over a two-year period, included the salaries of Argentina great Lionel Messi and Brazil forward Neymar, undercover talks regarding the creation of the European Super League and alleged cases of tax evasion by several top footballers.
In November 2018, German publication Der Spiegel claimed Manchester City and their sponsors manipulated contracts to circumvent Uefa's Financial Fair Play (FFP) regulations and said its source was a whistleblower they called "John", which was the pseudonym Pinto created Football Leaks under.
In February 2020, City were given a two-season European club competition ban by Uefa but the club successfully overturned the suspension five months later on appeal to the Court of Arbitration for Sport (Cas).
Cas said City were cleared of "disguising equity funds as sponsorship contributions", but that the club did "fail to co-operate with Uefa authorities". It also reduced an initial fine imposed on City from 30m euros to 10m euros.