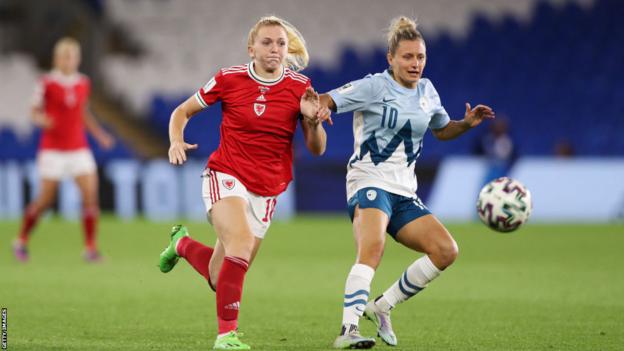 Dominika Conc is tired.
Tired of how female footballers are treated, tired of the conditions she's forced to play in, and tired of fighting for even the smallest improvements.
But she will not stop.
Conc is the vice-captain of Slovenia's women's national team. In July, she and 30 of her team-mates wrote an open letter to the president of the Slovenian football federation (NZS) demanding the removal of head coach Borut Jarc and detailing allegations of bullying, sexism, body-shaming and inappropriate behaviour within the camp.
Training, she says, had become intolerable, also stating that the environment they found themselves in affected players' mental health.
"The environment was just very unprofessional," 30-year-old Conc tells BBC Sport. "Very inappropriate comments. Cussing towards us, sexist comments or homophobic things getting into our personal lives, which has nothing to do with the football pitch.
"Things were going on for the past five years. We had a respect-out-of-fear relationship before, you didn't say anything.
"A lot of players had to ask for help from the outside, from psychologists and other professionals."
Conc's words come at a time when the football world continues to reel from the aftermath of the Women's World Cup final, when Luis Rubiales – the president of the Spanish football federation – kissed forward Jenni Hermoso on the lips after Spain's victory over England.
The list of allegations in the Slovenian players' letter is extensive. They include claims of inappropriate comments from Jarc, that coaches smuggled alcohol into camps and openly drank during meals and after training sessions, and that players' personal lives and sexual orientation became a target for the staff.
It is also alleged that players were forced to play a Euro 2022 qualifier while ill with Covid-19, that they faced "demeaning treatment" regarding body weight, and had to fight to wear the same kit as Slovenia's men and have their names on the back.
Conc says she and her international team-mates had previously held a meeting with the football federation president and other officials, but came away feeling there was "no interest for the women's side".
"They didn't want to listen to us and they said it's none of our business," she says. "It is at that point we saw that no-one is listening to us. So we had to do something different.
"We decided to write things down and send them to the federation again and try to communicate about those things with them again in private, and what they did was they never responded to us."
So, Conc – who plays in midfield for Levante Las Planas in the Spanish top flight – and her team-mates went public, releasing their open letter.
Slovenia's head coach Jarc has since resigned, releasing a lengthy statement in which he said he "could no longer successfully continue my work as a selector under these circumstances".
He continued: "I wish to expressly deny any allegations that have been made against me personally. I would like to stress that I have always acted morally and in accordance with ethical principles."
But even after Jarc's departure, Conc isn't convinced the culture will change.
"He wasn't the only one like that," she says. "We just have a feeling that the federation have us because they have to have us.
"We have to fight for jerseys, for the names on the jerseys, for the same jerseys as the men. We're playing in the middle of the day, in the middle of the nowhere. No wonder no-one is coming to watch our games."
Slovenia are due to play in Uefa Women's Nations League qualifying this month, with matches against the Czech Republic and Bosnia and Herzegovina on 22 and 26 September respectively.
A large number of the team play their domestic football abroad. Defender Sara Agrez reached the Champions League final with Wolfsburg last season, while Lara Prasnikar starred for Eintracht Frankfurt in the Bundesliga. Conc herself has previously played for the likes of Valencia, AC Milan and Malaga.
"With pretty much nothing invested in us, we are already achieving things," says Conc.
But she adds that had Jarc still been in position, she and her team-mates would not have played their upcoming fixtures.
"We are expecting better, but it's hard to say because we don't know what they're going to do," she says.
"A lot of times they're just picking someone, putting that person there and it's someone who's never been around women's football, who doesn't know us and it's just hard. I feel like it's just not respectful towards us either."
In a statement to BBC Sport, the NZS denied the allegations, saying the issues raised in the letter had never been discussed with the president.
Since the letter was made public in July, the NZS said it had been investigating and was in the final stages of the preparation of a report containing "recommendations on making positive changes in the future".
It added: "The Slovenian FA has always up until this point and will continue to support the development of women's football up to a level that is reasonable and sustainable for the federation and the future of Slovenian women's football as a whole."