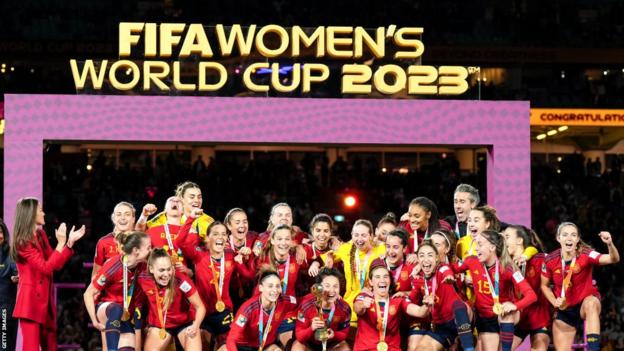 Spain players have reiterated that they are boycotting the national team despite being called up to the women's national team.
Fifteen members of the team that won the World Cup last month have been included in a squad for upcoming Nations League fixtures.
A group of 81 players boycotted the national team after then Spanish FA boss Luis Rubiales kissed forward Jenni Hermoso following last month's final.
The fall out led to Rubiales resigning.
On Friday, 39 players – including 21 of the 23 World Cup-winners – said their strike would continue until further changes were made.
Two-time Ballon d'Or winner Alexia Putellas was among the 15 players called up who were part of the triumphant squad in Australia and New Zealand. However, Hermoso was left out.
The players later published a statement, issued by Futpro, stressing the boycott remains in place and that they were exploring their potential legal options. It read: "We regret that once more our federation has put us in a position in which we never wanted to be in.
"We made clear our firm desire not to be summoned for justified reasons. These statements are still fully valid."
This was the first squad announcement by new coach Montse Tome, who replaced Jorge Vilda – considered a close ally of Rubiales – after he was sacked earlier this month.
Tome, who was Vilda's assistant manager, has become the first woman to hold the position of Spain women's boss.
Earlier on Monday, the Spanish football federation (RFEF) had urged striking players to return to the national team. The organisation previously said the players have "an obligation" to play if selected.
"We stand with Jenni," Tome said.
"We believe that the best way to protect her is like this, but we are counting on Jenni."
Barcelona duo Mapi Leon and Patri Guijarro – who were not included in Spain's World Cup squad after signing an open letter against then-coach Vilda – were also named in Tome's side.
"It's the start of a new phase, the clock is ticking," said Tome.
"There is nothing behind us and we really want to connect with these players."
On Friday, the 39 players boycotting the national team released a statement saying they would not return until further conditions were met, including reshaping certain departments within the RFEF, adding that they did not yet "feel in a safe place".
The RFEF responded by expressing its commitment to change being made "to restore the functioning of the entity".
The Spanish government also assured players that changes will be made and there will be a greater representation of women in the federation.
Rubiales has been banned from going within 200m of Hermoso, who has said the kiss was not consensual, after the 33-year-old filed a legal complaint.
Appearing in court for the first time last Friday, Rubiales denied sexually assaulting Hermoso.