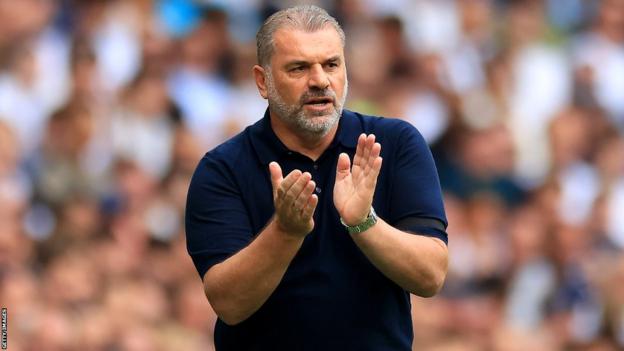 Tottenham Hotspur chairman Daniel Levy says the club made "mistakes" in appointing "trophy managers" Jose Mourinho and Antonio Conte.
The pair had both previously won the Premier League as managers but were each sacked by Spurs after less than 18 months following disappointing results.
But Spurs are performing well under new boss Ange Postecoglou and sit second in the Premier League.
"We've got our Tottenham back," Levy said at a Spurs' fan forum.
Levy said he felt pressure to "change strategy" after sacking Mauricio Pochettino, the now Chelsea boss who led Tottenham to their first Champions League final in 2019, where they lost to Liverpool in Madrid.
"I want to win just as much as everybody else," Levy said.
"The frustration from not winning and the pressure from maybe some players and a large element of the fan base that we need to win, we need to spend money, we need to have a big manager, a big name. And it affected me.
"The strategy was to bring in a trophy manager and we did it twice. You have to learn from the mistakes."
Mourinho, who had won three Premier League titles with Chelsea, was appointed by Spurs in November 2019 and guided the club to sixth in the league in his first season.
When he was sacked in April 2021, the club were just days away from playing in the final of the Carabao Cup, but sat only seventh in the Premier league.
Conte, another Premier League winning manager with Chelsea, was appointed after Mourinho's successor – Nuno Espirito Santo – was sacked.
After leading Tottenham to a top-four finish in his first season, the Italian criticised the club's culture and left in March when Spurs were fourth in the Premier League and had exited all cup competitions.
"They are great managers, but maybe not for this club," Levy added.
While he admitted mistakes had been made with managers, Levy said he stood by the decision to join the European Super League (ESL).
Tottenham were one of six Premier League clubs who agreed to join the ESL, but backed out of the project within 72 hours following widespread condemnation.
"All I'd say is we will always act in the best interests of this club and I stand by the decision we made. We were prepared to have a conversation regarding the European Super League," Levy said.