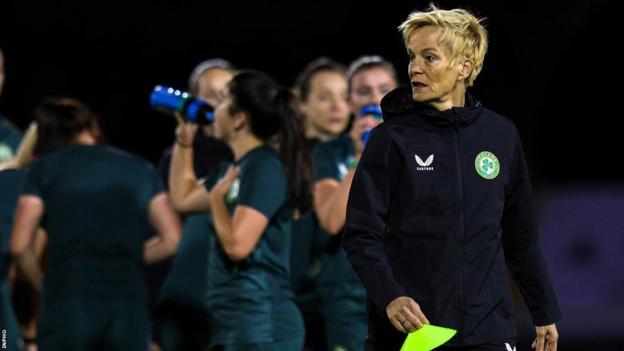 Football Association of Ireland chief executive Jonathan Hill defended the decision not to offer women's team manager Vera Pauw a new contract, saying: "A fresh approach was needed."
Pauw lost the Republic of Ireland job last month despite guiding the Irish to this year's World Cup finals.
Hill rejected a series of Pauw claims, including that the governing body had reneged on the offer of a new contract.
"At no point was a contract offer ever presented to Vera," said the FAI boss.
He stressed that nor was any deal offered to Pauw's representative or put to the FAI board.
Hill admits Athletic article affected FAI thinking
Hill added that he and Pauw had agreed last December and January that the "focus should be solely on World Cup preparation and not on contract negotiations" as the Republic squad prepared for the country's first major women's finals.
He added: "In March, however, Vera indicated that she was happy to start discussions on a new contract if the FAI was, following which initial informal conversations were had with Vera and thereafter with her representative Ciaran Medlar.
"Those conversations did not progress to a point where a formal offer was made to Vera or Ciaran Medlar and in advance of the World Cup, we decided to pause discussions on a contract renewal."
The FAI chief said the emergence of an article in the Athletic in early July, which saw Houston Dash players come forward about body shaming allegations during Pauw's time in charge of the US club in 2018, did further affect the FAI's deliberations over whether to offer the Dutchwoman a new deal.
Pauw, who was appointed to the Irish job in 2019, launched a strong defence of her character and denied the allegations, which overshadowed the Republic's World Cup send-off game against France.
"We believed it was not appropriate to offer a new contract at this point, to double down on concentrating on the tournament immediately ahead of us all and to assess everything post the tournament and the campaign in its entirety," said Hill.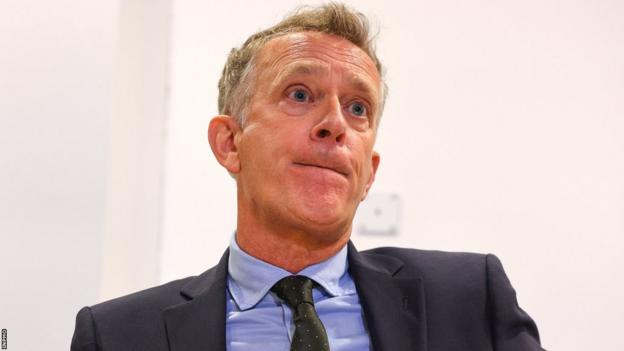 Review outcome 'was not pre-determined'
Hill strongly rejected Pauw's claims that there had been interference in team matters by FAI officials during the World Cup and that the outcome of a post-tournament review had been "pre-determined".
The review was undertaken by FAI director of football Marc Canham, and Pauw insisted that it therefore could not be regarded as an "independent" process.
"The review that we conducted was a thorough process which involved over 30 one-on-one in-depth interviews amongst players, team staff and wider personnel and of course Vera Pauw herself who we spoke to twice at length," added Hill.
"The outcome of this review was not pre-determined as has been suggested. Nor was it designed in any way to be a critical review of the manager herself.
"The manager had reached the end of her contract period and the recommendation both Marc and I made to the board and the ultimate decision the board reached was one based on a range of reasons, not any one in particular but all evidenced based from the review process."
'Recurring themes emerged'
While the FAI chief said the specifics of the report had to remain confidential, he said "high-level themes in relation to football matters" had emerged.
He said those were: "Recurring themes such as football methods and the style and nature of sessions, and approaches to fitness and conditioning, much of which has been covered in depth.
"Vera was very clear, consistent and opening in stating not just to us but to her staff and players, that she believed her approach to areas such as these was absolutely the right one and indeed one she had adhered to throughout her career.
"The manager had her views and believed in her approach. A number of the players and indeed Marc simply had a different position.
"There were indeed differences of opinion but these are part [and] parcel of the game. But it was clear from discussions with Vera that she was not going to change her fundamental approach."
Hill strongly rejected Pauw's allegation of interference in team matters during the tournament in Australia.
"There was absolutely no interference in the technical affairs of the team as has been suggested, from either myself or Marc or any FAI executive, whether that be team selection or anything of the sort," Hill said.
"I, as CEO, as well as the senior leadership team have worked hard to develop strong professional relationships with the players as we believe it's crucial that the players feel connected to the association.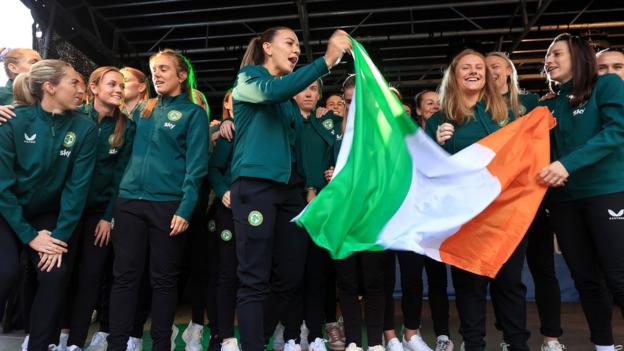 "The players themselves view this type of open and transparent interaction and communication as a real positive and have stated this on a number of occasions.
"In the past, the FAI has been accused of not listening to players and I for one do not belief that would reflect a modern working environment."
FAI chief says players 'a credit to the country'
Amid some public criticism directed at the Republic's players following Pauw's departure, the FAI chief strongly defended the squad.
"The players are an absolute credit to this country, to the association and to their families," Hill said.
"I know their sole interest is what is in the best interest of women's and girl's football both for this team and future generations, very much as Vera herself has said.
"The players performed to their maximum during Vera Pauw's time in charge of the team, always gave everything and were very respectful towards her as noted consistently in the review interviews.
"We wish Vera Pauw well and thank her for all she has done and we recognise her considerable achievement with this team."
Pauw's exited at the group stage of the World Cup after a draw with Nigeria and defeats by Australia and Canada.