Host nation:
Qatar
Dates:
20 November-18 December
Coverage:
Live on BBC TV, BBC iPlayer, BBC Radio 5 Live, BBC Radio Wales, BBC Radio Cymru, BBC Sounds and the BBC Sport website and app
Day-by-day TV listings
–
Full coverage details
England boss Gareth Southgate praised his side's mentality during Friday's goalless draw with the USA at the World Cup but came in for criticism for the "massive mistake" of leaving Manchester City star Phil Foden on the bench.
Southgate said England remain in a "strong position" to reach the last 16 despite a lacklustre performance that saw the Three Lions produce their fewest shots on goal in a World Cup match in more than 30 years.
England remain top of Group B and will progress to the knockout stage if they avoid a four-goal defeat by Wales on Tuesday (19:00 GMT).
"It's a game you can lose if your mentality is not right," said Southgate.
The match, and England's performance, was in stark contrast to their England's 6-2 thrashing of Iran in the opening group game.
"To come on the back of such a comfortable win, it is very difficult to find that sort of level again," Southgate told BBC Sport.
"The players are a bit down but I'm not. I thought we controlled the game, our two centre-backs with the ball were outstanding. We lacked a little bit of zip in the final third tonight."
England had just eight shots, only attempting fewer against the Republic of Ireland in 1990, when they registered six, and seven against Poland in 1986.
After Mason Mount's shot from distance just before the break they barely posed any threat in the second half, with no attempts registered in a 40-minute period.
"I am not frustrated. We've had to show a different side to ourselves tonight and I am actually happy with the mentality of the team," said Southgate.
"The objective is always to get out of the group and we've done that in two games in the past two tournaments – we can't expect to do that all the time."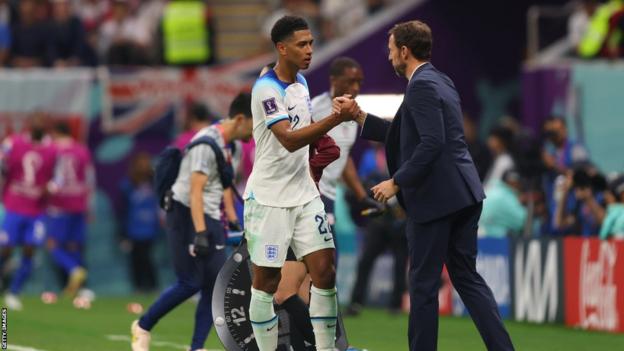 Where was 'super' Foden?
Southgate opted for the same starting line-up that beat Iran on Monday and when in need of a creative spark brought on Jack Grealish and Marcus Rashford late in the game, leaving Foden on the bench.
Former Manchester City and England defender Micah Richards, part of BBC Radio 5 Live's World Cup coverage, said: "We talk about creativity, who is the first player that comes to mind? It is Foden.
"Mount didn't have his greatest game and I don't want to blame it on him, but it was a game where we couldn't get the rotations going and get the passing quick enough and we had one of our best talented players on the bench. I couldn't understand it."
Despite his impressive performances in the Premier League, where he has netted seven goals and provided three assists, Foden appeared only as a substitute for 20 minutes in the Iran match.
"It is not about one player making the difference but how many times do we see him, week in week out, get in those little pockets and make something out of nothing," added Richards.
"For him to not come on to the pitch was a massive mistake."
Southgate defended his decision to bring on Grealish and Rashford, saying he thought their "different attributes" would get England over the line.
"They weren't able to find that missing spark, but we know Phil is a super player and if we didn't score, we were going to get asked about which one we didn't put on."
Former England goalkeeper Rob Green said it seems that Southgate "doesn't consider" Foden in any position other than out wide.
"That was the direct choice. Is it Rashford or Foden? Is it Grealish or Foden? Not 'can I stick him in where Mount is [centrally]?' It is just not a consideration in this side," said Green.
Southgate also swapped Jude Bellingham, who was quiet compared with his stellar performance on Monday, for the more experienced Jordan Henderson.
Richards added: "The Henderson change was about knowhow. You can bring him in and you don't mind that because we were getting overrun in midfield.
"If you are going to make that change, fine, but you can bring Foden on at the same time. You have got the stability of Henderson but you've got the attacking talent of Foden who can get on the ball and make a difference.
"Grealish came on and he made a difference. He wasn't amazing but he gave them a different dimension and that is what England needed."
Performances 'a million miles apart'
England remain on course to reach the last 16 but the performance was in stark contrast to the emphatic win against Iran.
"It was a really underwhelming performance," said Green on BBC Radio 5 Live.
"England got the attacking flair in the first game and the defensive solidity in the second game and if you put those together it is a good performance, but it just felt a million miles apart."
Southgate's tactics have seen his side reach a World Cup semi-final and European Championship final during his tenure, but England's inability to find a solution going forward could be a concern for fans.
The England boss added: "The inability to open them up is because they defended really well. They had 11 men who worked their socks off to protect the goal and when we did have those little small windows of openings we didn't produce quite the right quality to open them up.
"We are playing in conditions that are taking a lot out of players and to maintain the tempo is not easy."
England defender Kieran Trippier told BBC Radio 5 Live: "You have to take pride in clean sheets and in tournament football we know it is very important.
"It is a big point in our group. Both teams tried to win the game and both had chances and I think a point is a fair result. Now we just have to recover and review the game and fully focus on the next battle against Wales."


Get the latest results and goal notifications for any team at the Fifa World Cup by downloading the BBC Sport app: Apple – Android – Amazon




Get your daily dose of Fifa World Cup reaction, debate & analysis with World Cup Daily on BBC Sounds